International Conference on Applied Sciences and Smart Technologies
InCASST 2023 (International Conference on Applied Sciences and Smart Technologies) will be held on October 18th, 2023 in Yogyakarta, Indonesia on hybrid mode.  The theme of this conference is "Science and Technology Disruption in the Post Pandemic Era for Better Life Quality".  We would like to invite researchers and practitioners in the fields of applied Mathematics, Electrical Engineering, Informatics, and Mechanical Engineering.
International Conference on Intercultural Humanities
The International Conference on Intercultural Humanities aims to deepen collaboration between Sanata Dharma University and Sogang University, Korea, as members of the Association of Jesuit Universities and Colleges in Asia-Pacific (AJCU-AP). Participants and presenters of this conference are master and doctoral program students from various universities in different countries. The conference fosters enthusiasm for students to attend the conference.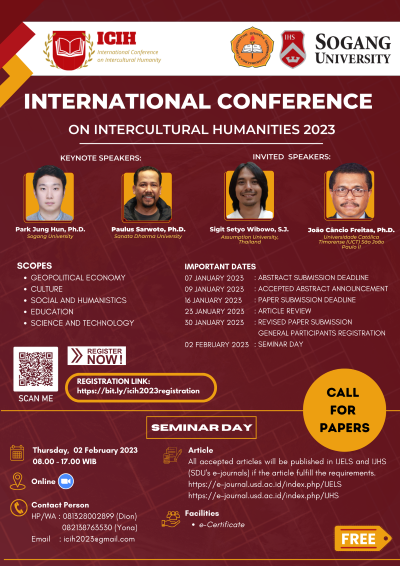 Seminar Nasional Sanata Dharma Berbagi (USDB) 2022
Tema
"Pengembangan, Penerapan dan Pendidikan 'Sains dan Teknologi' Pasca Pandemi"
Latar Belakang
Pandemi yang melanda dunia beberapa tahun belakangan ini secara tidak langsung juga menjadi kesempatan hadirnya refleksi terhadap dinamika pengetahuan, terlebih berkenaan dengan eksistensi Sains dan Teknologi. Peranan Sains dan Teknologi akhirnya menjadi kata magis dalam memaknai kehidupan, terlebih di era pasca pandemi ini.
"Sanata Dharma Berbagi" adalah wadah atau tempat atau kesempatan bagi insan-insan akademis untuk bertemu dan berdiskusi demi maksud tersebut. Adapun tema yang diambil adalah "Pengembangan, Penerapan, dan Pendidikan 'Sains dan Teknologi' Pasca Pademi." Secara khusus, seminar ini diarahkan bagi berkembangnya kualitas dan kuantitas karya ilmiah yang dilakukan para dosen, dan oleh karenanya ini terbuka untuk mereka yang menekuni bidang sains, teknologi, dan juga pendidikan. Seminar ini pun bisa menjadi sarana pemenuhan bidang penelitian.
"Sanata Dharma Berbagi" pada dasarnya merupakan program rutin yang dilaksanakan oleh Lembaga Penelitian dan Pengabdian kepada Masyarakat Universitas Sanata Dharma (LPPM USD), yang pada awalnya untuk menampilkan dan mempromosikan para doktor baru di lingkup USD. Secara khusus tema-tema yang diangkat disesuaikan dengan bidang-bidang kajian yang ditekuni para doktor baru tersebut, dan untuk tahun ini tema tentang 'Sains dan Teknologi,' termasuk juga pendidikannya, yang dipilih. LPPM, sebagai pelaksana program, bekerja sama dengan berbagai jurnal, yang dimiliki USD, untuk menerbitkan artikel-artikel ilmiah yang dihasilkan lewat forum ini. Namun demikian, LPPM pun juga menyiapkan prosiding ber-ISBN untuk artikel-artikel ilmiah yang tidak tertampung dalam jurnal-jurnal tersebut.
Tujuan
Tersedianya 'wadah' untuk menampung dan me-desiminasikan karya ilmiah dosen dan mahasiswa, baik di internal maupun eksternal USD
Meningkatkan kuantitas dan kualitas karya ilmiah para dosen dan peneliti.
Membantu dosen dan peneliti agar dapat segera menerbitkan karya ilmiahnya, baik dalam prosiding ber-ISBN maupun artikel dalam jurnal terbitan USD.
Ruang lingkup (scope) meliputi, tetapi tidak terbatas pada:
Matematika
Ilmu Komputer
Teknik Elektro
Teknik Mesin
Pedidikan Matematika
Pendidikan Fisika
Pendidikan Biologi
Pendidikan Kimia
Teknologi Pembelajaran
Tanggal Penting:
9 Oktober 2022                                : Deadline Abstrak
17 Oktober  2022                             : Pengumuman abstrak yang diterima
7 November 2022                             : Deadline penerimaan naskah
29 Oktober s/d 12 November  2022   : Review artikel
19 November 2022                           : Pengumpulan naskah yang sudah direvisi
26 November 2022                           : Seminar Day
Artikel:
Semua Artikel dalam seminar ditulis dalam Bahasa Indonesia
Semua Artikel yang diterima (setelah review) akan diterbitkan pada prosiding ber-ISBN.
Artikel Terpilih (Selected paper) akan di terbitkan pada Journal IJASST/IJIET
Link:
IJASST : https://e-journal.usd.ac.id/index.php/IJASST *
*Template jurnal mengikuti aturan pada jurnal tersebut.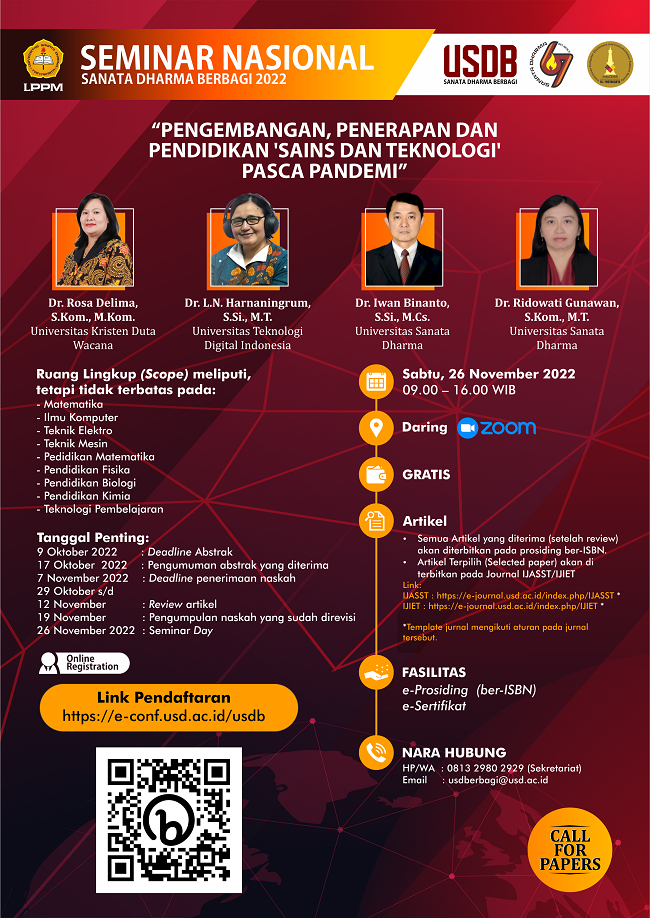 [POSTPONED] International Conference on Research in Education
NOTICE
Due to some inevitable issues, the committee regretfully postponed the ICRE 2022 until further notice. Thank you for your understanding.
International Conference on Research in Education (ICRE) 2022
"Teacher Education in Learning Paradigm Shifts"
Background
Technological and pedagogical innovations in education have changed the conventional learning environment to be more modern in order to achieve more optimal and time-responsive student competencies. This innovation forms a smart learning environment that appears in various forms, such as flexible, personal, adaptive, mixed, flipped, and mobile learning environments. This intelligent learning environment is defined as an environment that emphasizes flexibility, effectiveness, efficiency, and adaptability to new developments, and is lived by continuous reflection on learning processes and outcomes that integrate formal and informal learning. A smart learning environment is an adaptive system that improves and enhances the learning experience based on challenges, choices, progress, the use of multimodal media, and the empowerment of an abundance of learning resources and technologies.
Language and Language Teaching Conference (LLTC)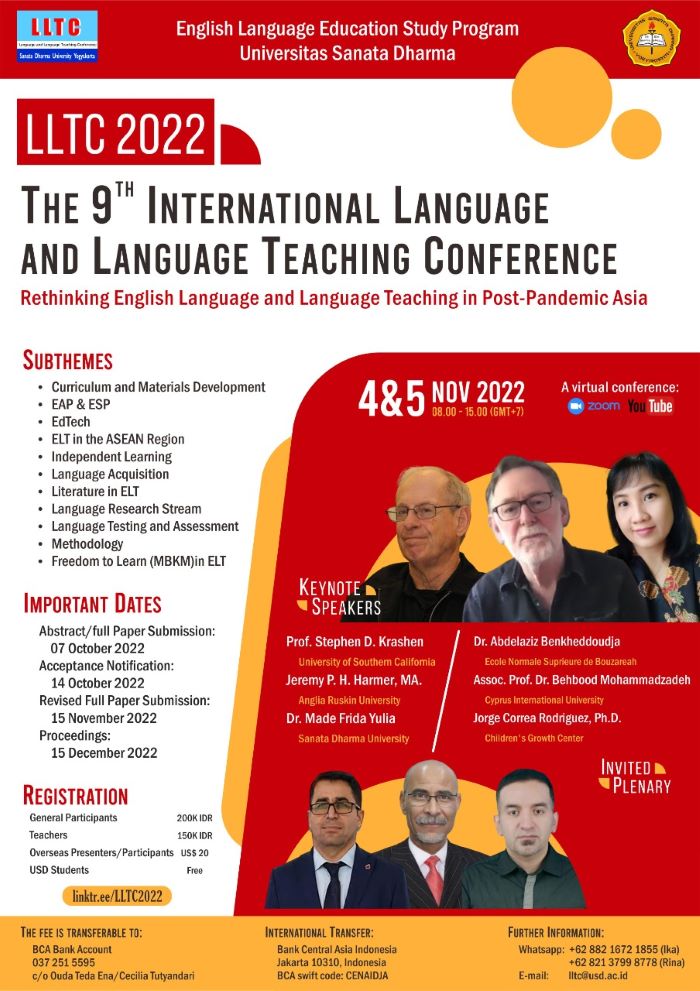 Dear LLTC 2022 full paper authors
Here are seven steps of how to upload your full paper:
1. Log in as an author using your username and password.
2. Click the track "Articles".
3. Complete the Conference Track, Session Type, Submission Checklist.
4. Upload the file (.doc, docx, or .rtf --- but NOT .pdf).
5. Enter the metadata.
6. Upload the supplementary files (if any).
7. Click "Finish Submission" to complete the process.
We are looking forward to receiving your full papers. Thank you.
LLTC 2022 Organizing Committee
The 9th Language and Language Teaching Conference (LLTC) 2022
Friday and Saturday, 4 and 5 November 2022
Virtual/Online Conference
Dear educators,
The global pandemic caused by the COVID-19 virus has had a disruptive and profound impact on English-language teaching. To reduce the spread of the virus, teachers and learners had to suspend in-person teaching and learning. This led to the widespread adoption of synchronous and asynchronous online teaching. Obviously, this period has led to immense challenges for teachers and students alike, but it has also provided a unique opportunity to understand the potential affordances of online teaching in English-language teaching. 
LLTC has become an event of getting new perspectives from experts, researchers, and teaching practitioners in order to deal with the new face of language learning and teaching, linguistics and literature in local and universal contexts. Whether you are a teacher, a lecturer, a researcher, a coordinator, a manager, a material developer, a curriculum specialist, a student, or a professional who is interested in second language education, you are welcomed to participate in our 9th Language and Language Teaching International Conference 2022.
Literary Studies Conference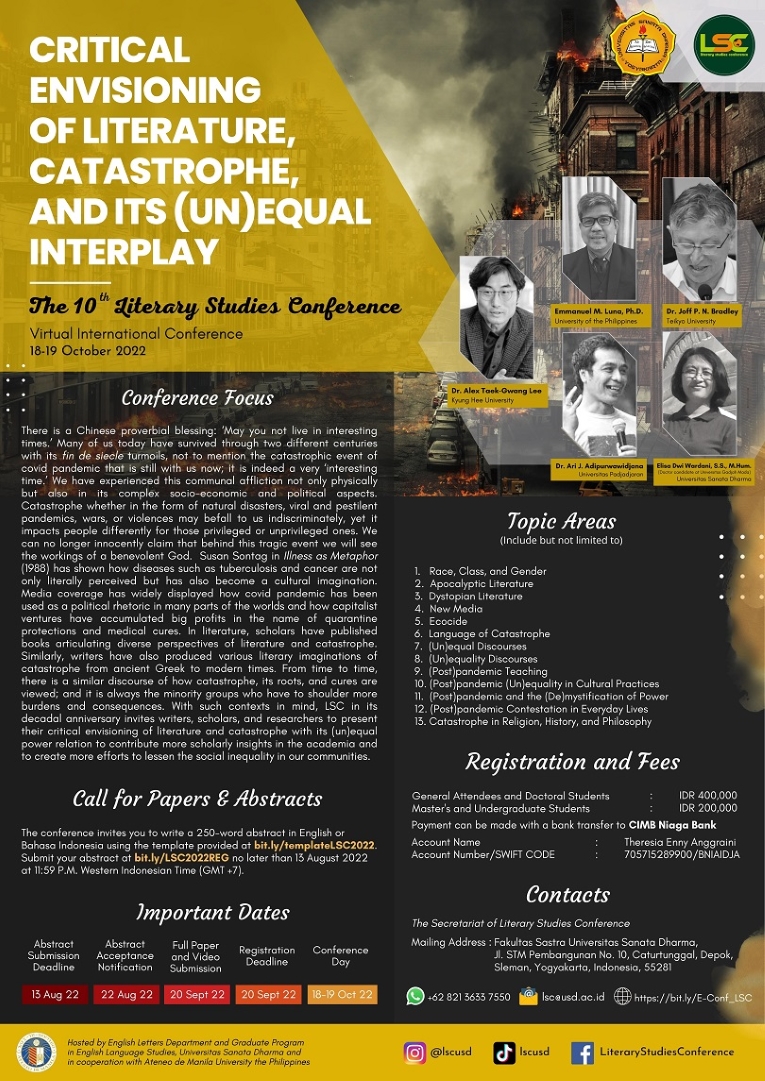 Literary Studies Conference (LSC) is the annual conference held in October by the Department of English Letters and the Graduate Program of English Studies, Universitas Sanata Dharma, Yogyakarta, Indonesia (in cooperation with Ateneo de Manila University, the Philippines). The topics covered in this conference include issues in language, literature, and culture.
Undergraduate Conference on ELT, Linguistics and Literature
The Undergraduate Conference (UC) on ELT, Linguistics, and Literature, which is also known as PBI UC, is annually organized by English Language Education Study Program, Sanata Dharma University, Yogyakarta.
This year, 2022, UC will be organized virtually -- online, on Saturday, 23 July, 2022.
For further and latest information, check our instagram @uc.pbi.usd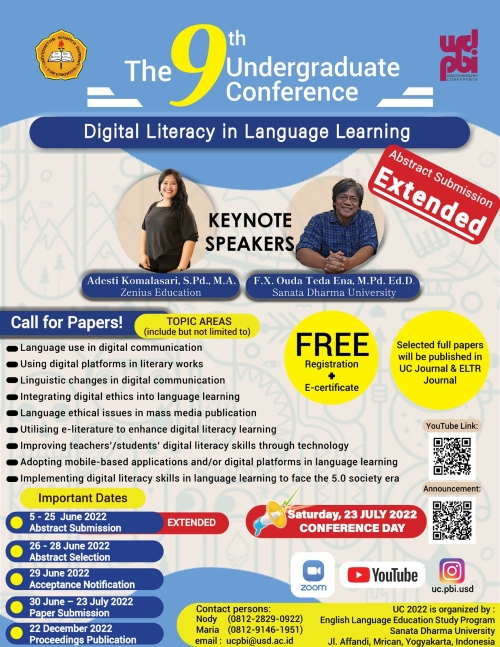 Information for Authors/Presenters
The Undergraduate Conference on ELT, Linguistics and Literature
How to create an author account? Well, why not try the five main steps below?
1.  Visit the UC site: https://e-conf.usd.ac.id/index.php/ucpbi/uc2022
2.  Click on menu "Account" from the top of the page.
3.  Fill in the author information to the provided fields.
4.  Remember to check "Create account as: Author" (Check/mark the Author box).
5.  Click on "Create" button. Your UC author account has been created.
Well done! :-))
Steps to Submit an Abstract for UC 2022
Hi fellow UC-ers! Hope the following steps to submit an abstract are helpful.
Login on your UC OCS account. (Use your username and password)
Click on the "New Submission" link on the user homepage.
Follow Step 1 to Step 4 of the submission process: 1. START, 2. ENTER METADATA, 3. UPLOAD SUPPLEMENTARY FILES and 4. CONFIRMATION
In Step 1 (START), do the following:
1)   Select the conference track (Abstract for UC 2021).
2)   Check all of the Submission Checklist.
3)   Agree to the terms of Copyright Notice.
4)   (Optional) Give comments for conference director.
5)   Click "Save and continue".
In Step 2 (ENTER METADATA), do the following to complete the metadata, for example:
1)   Author's profile. (can add more than 1 author; Order: first author, second author …)
2)   Title, abstract and keywords (can copy and paste).
3)   Click "Save and continue".
In Step 3 (UPLOAD SUPPLEMENTARY FILES), do the following:
1)    Choose/locate the submission file to upload.
2)    Upload your abstract file in .doc, .docx or .rtf format (Use the UC abstract template).
3)    Click "Save and continue".
In Step 4 (CONFIRMATION): For confirmation, click the "finish" button.
Thank you for your abstract submission.
UC e-conf: http://e-conf.usd.ac.id/index.php/ucpbi/UC
Seminar Nasional Fakultas Keguruan dan Ilmu Pendidikan (SNFKIP)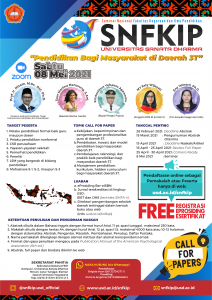 >>>>>>>>>>
>>>>>>>>>>
Latar Belakang
Perkembangan peradaban melaju begitu cepat, namun kemajuan tersebut menyisakan wilayah-wilayah yang tidak cukup menerima stimulan untuk berkembang. Pusat Data Desa Indonesia pada tahun 2019 mencatat 4.777 desa masuk dalam kategori desa tertinggal. Wacana tentang revolusi industri 4.0 dan masyarakat 5.0 cenderung menenggelamkan wacana masyarakat yang hidup di desa tertinggal yang hidup bergantung pada alam dan jauh dari hiruk-pikuk kemajuan teknologi.
Variabilitas perkembangan peradaban di Indonesia nampak sebagai garis kontinum kesenjangan dari masyarakat yang telah berada pada tahap kemajuan sampai masyarakat yang masih memiliki budaya berburu dan meramu. Faktor geografis dan belum meratanya infrastruktur tentu menjadi faktor yang turut mempengaruhi, namun pendidikan selalu menjadi faktor kunci untuk menciptakan mobilitas sosial vertikal.
Perlu kebijakan dan upaya nyata dalam melakukan percepatan pembangunan pendidikan bagi daerah-daerah tertinggal untuk mewujudkan kesetaraan dan keadilan. Berangkat dari kesadaran bahwa pendidikan merupakan faktor kunci dalam upaya mewujudkan masyarakat yang maju dan sejahtera maka pendidikan perlu diletakkan sebagai prioritas kebijakan nasional, regional, maupun ditingkat unit kerja.
Pengalaman menunjukkan bahwa penyelenggaraan pendidikan di daerah tertinggal merupakan masalah yang kompleks. Banyak kendala yang disebabkan oleh faktor internal dari masyarakat tersebut tetapi juga banyak faktor eksternal yang mempengaruhi. Dalam konteks inilah maka pengalaman, pemikiran, dan kebijakan dari berbagai pihak selalu menjadi hal yang berharga untuk dipelajari kembali.
Berangkat dari kesadaran tersebut Fakultas Keguruan dan Ilmu Pendidikan, Universitas Sanata Dharma bermaksud untuk menyelenggarakan Seminar Nasional sebagai forum untuk saling belajar dalam menyelenggarakan pendidikan bagi masyarakat tertinggal. Seminar nasional yang diselenggarakan ini diharapkan dapat menghasilkan rekomendasi pendidikan bagi masyarakat di daerah tertinggal sehingga percepatan kemajuan daerah tertinggal dapat segera terjadi.
Topik Call of Paper :
Kebijakan, kepemimpinan dan pengembangan profesionalitas guru di daerah 3T.
Pendekatan, inovasi, dan model pendidikan bagi masyarakat daerah 3T.
Pembelajaran, teknologi, dan praktik baik pendidikan bagi masyarakat daerah 3T.
Manajemen pendidikan, kurikulum, hidden curriuculum bagi masyarakat daerah 3T.
Narasumber :
Nadiem Anwar Makarim, B.A., M.B.A
MY Esti Wjayati

Saur Marlina Manurung, S.Ant.

Kristosimus Yohanes Agawemu

Eny Winarti, Ph.D.

Seminar Nasional FKIP 2018
Selamat datang di laman Seminar Nasional FKIP Universitas Sanata Dharma 2018!
Universitas Sanata Dharma perlu meningkatkan relevansi dan keunggulan program studi yang sesuai dengan tuntutan zaman. Secara khusus, Fakultas Keguruan dan Ilmu Pendidikannya merasa penting menganggapi  revolusi industri 4.0. Ada panggilan yang kuat untuk menyiapkan diri menghadapi era tersebut.
Seminar on Translation
Seminar on Translation is an annual conference held to disseminate and share thoughts, ideas, and research on translation.
South East Asia Design Research (SEA-DR) International Conference
South East Asia Design Research (SEA-DR) International Conference is an international conference concerned primarily with educational design research situated in a South East Asia perspective or in a South East Asia context. The conference also opens the possibility of discussion in other educational studies from broader perspective and context. The conference aims to enhance theory, research, and practice in educational design research through the academic communication.